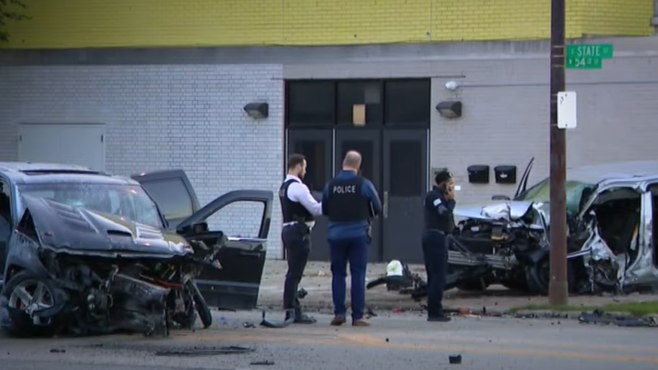 4 Chicago officers hurt in traffic crash following shooting outside police station
[ad_1]

By Adriana Pérez

Chicago Tribune
CHICAGO — Charges were pending for four suspects Saturday night following a shooting near a Chicago police station and a traffic crash that injured four responding officers, authorities said.
The chaotic chain of events began around 3:30 p.m. when a vehicle approached a 24-year-old man and a 28-year-old woman walking near the 3rd District police station in the 7000 block of South Cottage Grove Avenue, police said.
At least one person from inside the vehicle opened fire, striking the man in the thigh and grazing the woman's backside, police said. Both were transported to the University of Chicago Medical Center in good condition.
Police located the suspected shooter's vehicle in the 5400 block of South State Street in the Washington Park neighborhood. As officers responded, the officers were involved in a crash that required Chicago Fire Department assistance in freeing four trapped officers before taking them to local hospitals.
Authorities have not released conditions of the police officers.
Four people were arrested and two handguns were recovered, police said. Charges were pending late Saturday as detectives continued their investigation.
©2023 Chicago Tribune.

Visit chicagotribune.com.

Distributed by Tribune Content Agency, LLC.


[ad_2]

Source link