Barely 6-9% of traffic fines raised through e-challans realised | India News – Times of India
NEW DELHI: Traffic rule enforcement agencies across the country have recovered barely 6-9% of the fines slapped through e-challans on drivers and vehicle owners, government data for the past three years show. In 2020, against Rs 1,375-crore fines imposed for flouting traffic rules, the agencies recovered only Rs 125 crore, only 9% of the total challan amount.
The details provided by the road transport ministry, in response to a question from AAP Rajya Sabha MP Sushil Kumar Gupta, show that the enforcement agencies across states collected Rs 62 crore in 2021, barely 6% of the amount raised through e-challans.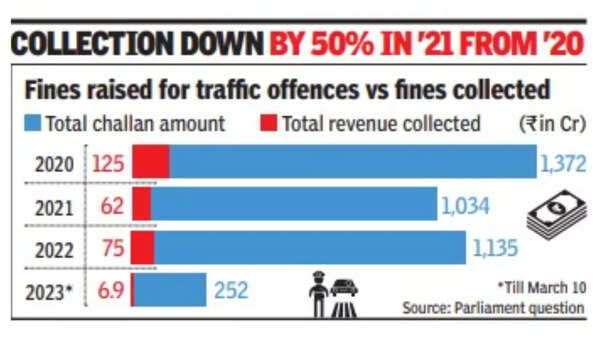 Last year, the fines collected was approximately about Rs 75 crore, that's 6.6% of the total penalties imposed by the government entities. Till March 10 this year, they have collected barely 2.7% of the fines slapped on the offending drivers and vehicle owners.
The number of cities and districts where e-challans are being issued has increased manifold between 2020 and 2022. as the amended Motor Vehicle Act of 2019 has mandated states to adopt 'electronic enforcement' to eliminate human interventions.
TOI has learnt that even top state government officials flagged the issue of very little collection of fines — in several cases, less than 5% of the amount mentioned in e-challans — last week at a meeting called by the Supreme Court committee on road safety. It was called after the SC directed the panel to take up the issue of electronic enforcement of traffic rules with states and government agencies to reduce road fatalities due to speeding.
While government agencies maintain that the recovery of fines is less due to e-challans getting challenged in the courts, road safety expert Rohit Baluja said a research carried out by the Institute of Road Traffic Education (IRTE) across cities has found that the codes of practice for installation of red lights and those for speed detection with CCTV cameras were violated in majority of traffic control spots. "Therefore, in many cases drivers and people are challanned for no fault for theirs and the fines are challenged in courts," he said.
The government has increased the fines for speeding, jumping red light and for not wearing helmet and seatbelt. The CCTV-based e-challanning largely cover these offences.