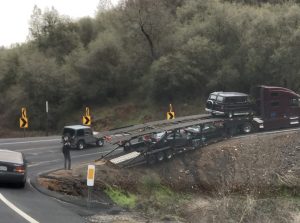 Big Rig Incident near Tuttletown
Tuolumne County, CA — Travelers on Highway 49 have faced some traffic delays in the Tuttletown area this morning.
The CHP reports that a semi-truck carrying multiple vehicles slid off the road and went into the ditch. It happened at around 8:50am. Traffic was still able to pass through the area, immediately after the crash. However, at around 10am, officials closed both traffic lanes so a tow truck could remove the big rig. Both lanes reopened, at around 10:30am. Cleanup continues in the area.