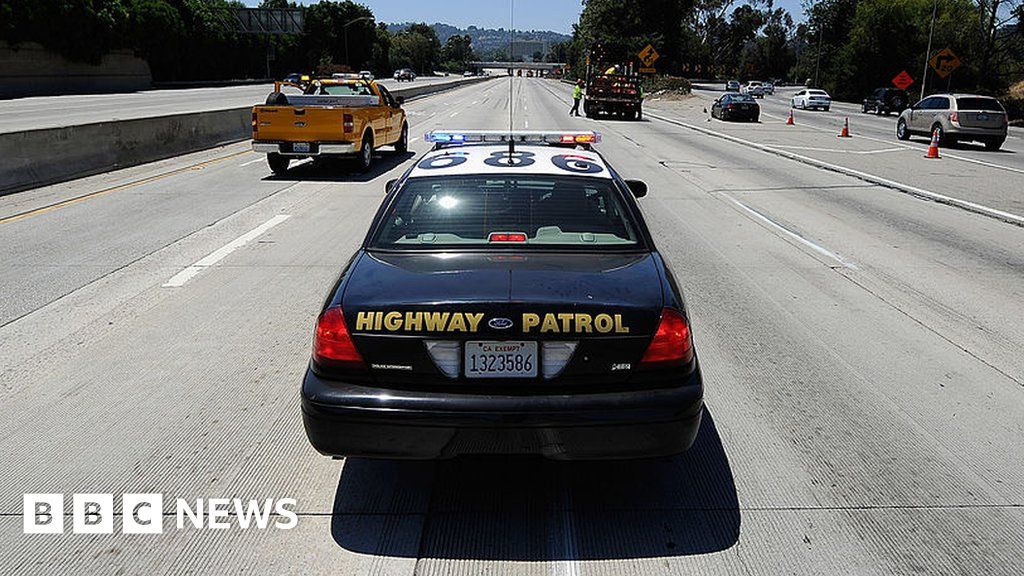 California officers charged in traffic stop death – BBC News
[ad_1]

Seven Highway Patrol officers and a nurse in California have been charged in connection with the 2020 death of a man during a traffic stop, officials said.
Edward Bronstein, 38, died after he was arrested on suspicion of driving under the influence on 31 March 2020.
A video of the incident shows Mr Bronstein screaming "I can't breathe" as he is held down by officers.
Officials said he was held down after he refused to give a blood sample.
Announcing the charges on Wednesday, Los Angeles County District Attorney George Gascón said the California Highway Patrol (CHP) officers had a "legal duty to Mr Bronstein".
"He was in their custody. We believe that they failed their duty and their failure was criminally negligent, causing his death," said Mr Gascón.
According to medical examiners, Mr Bronstein's death was caused by "acute methamphetamine intoxication during restraint by law enforcement."
A lawyer for Mr Bronstein's father told BBC's US partner, CBS News, that Mr Bronstein only had a "trace" of methamphetamine in his system and argued that his death was mainly caused by the actions of the officers.
Luis Carrillo, the lawyer, added that Mr Bronstein's blood-alcohol level at the time was 0.07% – just below the legal limit – when he was pulled over for impaired driving.
The 18-minute video of the arrest shows that Mr Bronstein was initially reluctant to provide a blood sample to officers. Family members have said that he was afraid of needles.
When Mr Bronstein refuses to comply, the video shows several officers forcing him down to a mat on the floor while he is handcuffed. He then screams that he can not breathe and soon after falls silent. A nurse draws blood from him while he is unresponsive as officers continue to pin him down.
After they realise that he had become unconscious, the officers are seen slapping his face and saying "Edward, wake up". The CPR begins more than 11 minutes after Mr Bronstein's last screams were heard.
He never regained consciousness and was later pronounced dead.
Mr Carrillo said that Mr Bronstein's father "is glad that the CHP officers were charged with crimes because the CHP officers took a human life and left a family in grief and sadness."
Mr Bronstein's family has also filed a lawsuit against the officers alleging excessive force and violation of civil rights.
CHP Commissioner Sean Duryee extended condolences to the family and said the agency's mission is to prioritise all Californians' safety.
"I recognise this case will now move through the court system, and I respect the judicial process," he said.
The seven CHP agents were put on administrative leave Wednesday. They each face one count of involuntary manslaughter and one felony count of assault.
The registered nurse in the video was also charged with involuntary manslaughter.
A lawyer for the nurse said the charges are "outrageous and irresponsible", arguing that her conduct did not contribute to Mr Bronstein's death.
If convicted, the officers face up to four years in prison.
[ad_2]

Source link