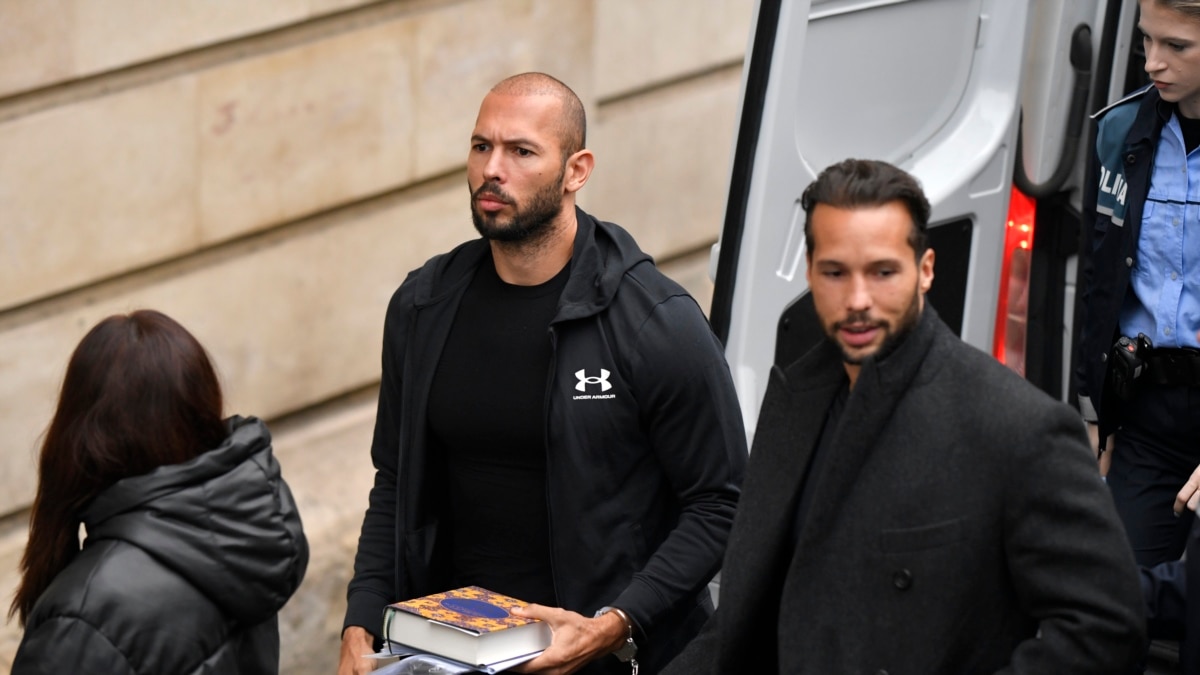 Despite Boasting About Romania's Lax Laws, Influencer Andrew Tate Had Repeated Run-Ins With Traffic Cops
BUCHAREST — After suggesting he went to Romania because of its lax laws and half-hearted enforcement, jailed social media influencer Andrew Tate still seemingly couldn't bribe his way out of speeding tickets.
RFE/RL's Romanian Service has found that British-American Tate, who faces charges of organized crime, rape, and human trafficking, is well-known to Romanian traffic police, who have imposed at least two fines for speeding in the past two years.
Thirty-six-year-old Tate found global notoriety through his misogynistic motivational videos that target "alpha males." The former kickboxer and reality TV star has been branded the "king of toxic masculinity."
After being detained at the end of December 2022, a Bucharest court last week extended pretrial custody for up to 30 days for Tate, his brother Tristan, and two Romanian women. Officials said they had seized assets worth more than 3.6 million euros ($3.9 million) from the Tates, including 15 luxury cars and nearly as many high-end wristwatches.
Tate frequently boasted to followers about his ownership of luxury sports cars, including Bugattis and Lamborghinis, and he routinely posed next to them.
The Tates, through a lawyer, have denied any wrongdoing.
The accusations, reportedly after months of police investigation, pit the architect of a multimillion-dollar empire built on hypermasculinity and a fast-and-furious lifestyle against authorities in a country that Tate suggested would help him escape overattention to the rule of law and even embrace corruption. He included adult entertainment among his high-earning enterprises.
In April 2021, records show Tate was stopped by police in Arges, a county west of the capital, Bucharest, for allegedly driving a Porsche 138 kilometers per hour through the town. His license was suspended for 90 days, and he was fined 1,305 lei ($286). Unsuccessfully contesting the offense in court, he and Georgiana Naghel, who is one of the two Romanian women in custody with Tate over the current charges, claimed they were outside city limits at the time. A court ruled against him on March 15, 2022.
On April 29, 2021, Tate lost another dispute over a driving offense, this time after he was caught behind the wheel of a Lamborghini by police in Brasov. He was clocked at 124 kilometers per hour, which was 74 kilometers an hour over the speed limit. Tate claimed in court that he was unfamiliar with the surroundings. He lost the case and was fined 1,350 lei and had his license suspended for 90 days.
Previous to those offenses, Tate was fined 112 euros ($121) by German police for speeding in April 2020. The resulting order of a fine landed in a Romanian court in Buftea, outside Bucharest, which, in October 2021, ordered Tate to pay a fine of 556 lei.
Tate once reportedly called British police officers' adherence to the law and refusal to take bribes if they stop him for speeding "offensive" and suggested it was among the reasons he set up his businesses in Romania.
One of the mainstays of Tate's online creed is that an "elite club" of successful people experience life with few of the hassles of ordinary folks. He preaches that self-made successes like himself — and by extension males who adhere to his ideology — deserve better, including through corruption and bribery.
Tate has said he escaped "the Western world" in part by moving to Romania, "where corruption is accessible to everybody."
A fanboy site quoted Tate as saying that "if corruption exists, which it does, let us all play."
As official investigations into the social media influencer's activities continue, RFE/RL's Romanian Service has found that the Tate brothers' registered local business activities include four companies, one of which dates to 2018. Three of the four are financially inactive.
The company that is still active is Talisman Enterprises SRL, and according to the Romanian Trade Register it is 95 percent-owned by Tristan Tate and 5 percent-owned by Andrew Emory Tate. It engages in "web portal activities." Based in Tarlungeni, Brasov County, and with two employees, it reported turnover of 2.2 million lei in 2021 and losses of 781,000 lei.
War Room Vegas SRL lists its activities as rental and subletting of real estate and is financially inactive. Forty-five percent is reportedly owned by a 36-year-old Pennsylvania-born American named Alexander Jacob Kozac; Andrew Tate is listed as a 45 percent owner; and Royalty Sport Management SRL, based in Brasov, controls the other 10 percent.
Emory Andrew Tate And Sons SRL was established in March 2021 and is headquartered in Voluntari, Ilfov County. Tristan Tate is listed as owning 95 percent of the company and Andrew Tate the remaining 5 percent. It is listed as a provider of "web portal activities" and does not appear to have submitted any record of financial activities.
The oldest of the companies linked to the Tates is Spirit House Enterprises SRL, which was established in Sacele, Brasov County, in 2018. It is owned by Tristan Tate and a Polish national and lists its business as "consulting activities in information technology."
"I have f*** you money. You can't take it away," Andrew Tate once said in a clip boasting that he was both "sexist" and a "misogynist."
Romanian officials appear to be testing that assumption.
The Romanian National Agency for the Management of Seized Assets said its seizures of the nearly $4 million in assets was requested by prosecutors from the country's Directorate for Investigating Organized Crime and Terrorism, including the cars, watches, and cash in dollars, lei, euros, and pounds.