Eyes on the sky: the air-traffic controllers watching 11% of the world's airspace
"When you think about that dot on the screen and how many people that represents," Jess Walton says as she points to a blinking circle on one of the four screens in front of her. "It's our job to keep them safe, so you can't really get distracted."
The air-traffic controller sits in the "en route" section of the air-traffic services centre next to Melbourne airport, in the offices of Airservices Australia, the commonwealth-owned organisation responsible for the management of the country's skies.
While towers overlooking airports might be where most people think air-traffic controllers work, taking off and landing is just the tip of the iceberg.
Different sections of airspace and altitudes are carved up and split between the roughly 100 desks in the Melbourne control room. Between this room and a similar one in Brisbane, Australian air-traffic controllers manage 11% of the world's airspace, 24 hours a day.
Walton sits below a map of a section of airspace between Katoomba and Griffith, west of Sydney, which is the zone she will focus on for several months. She is tasked with safely separating aircraft flying through this section, but only between 19,000 ft and 25,000 ft.
Next to her is Adam Heap. Before becoming an air-traffic controller, he worked as a baggage handler in Perth. "I prefer being inside with a roof over my head, it's much more mentally stimulating," he says.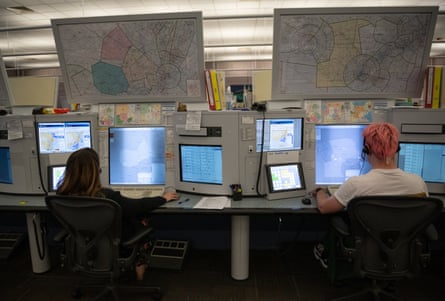 Heap has been charged with overseeing airspace between Mungo and Oxley, in western New South Wales, and south through an area between Melbourne and Adelaide. For six months, he'll be in charge of separating all aircraft operating above 25,000 ft in that area. Others will handle movements through the space at lower altitudes.
"Qantas 773," he says into his headset.
It's the middle of the day in Melbourne, but sitting a few rows away are controllers who are tasked with overseeing airspace in Western Australia, where it's still the morning peak. When they're on that rotation, controllers live according to that state's time zone.
Peter Drake, the systems supervisor who has worked in the field for more than 25 years, explains how the country is split.
"Imagine a line between Sydney and Port Hedland" off the north-west coast of Australia, he says. Air-traffic controllers in the Melbourne en route control room manage all aircraft movement below that line, while everything above the line is managed by Brisbane.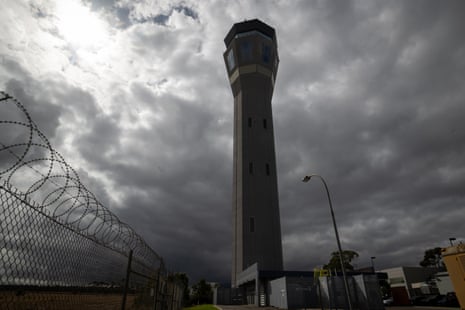 Melbourne's scope includes international waters out to the south of Sri Lanka, and on the other end, halfway to New Zealand. "There's not a lot of other countries to take responsibility in the Indian Ocean, so we take that oversight," Drake says.
In the Melbourne en route control room, every few seconds or so Walton swaps between clicking on one of the dots on her screen, consulting a Bureau of Meteorology radar map of her region, and delivering commands to various pilots into her headset.
Managing distractions is a key part of the job. Workers in the air-traffic services centre can cop a $10,000 fine if they're caught with their mobile phones on shift. They have to be put in a locker before entering. "You don't notice it though, there's too much to do to have free time to be going on Facebook," says Heap.
Just as a Canberra-bound plane exits his screen and becomes a colleague's concern, entering the screen are other flights, which he must keep separate from all the other dots.
It's a particular skill set that is at the centre of a recruitment drive at Airservices Australia as it seeks to increase the 900 operational air-traffic controllers it currently employs working in en route, or mid-air, control; at towers at airports, handling take off and landing; and terminal controllers who manage between the two stages.
Many in the aviation industry have vented frustrations at a shortage of air-traffic controllers in Australia, especially since a retirement program in 2021 saw more than 140 controllers leave. Qantas blames the shortage for a spike in delays and cancellations, particularly in Sydney.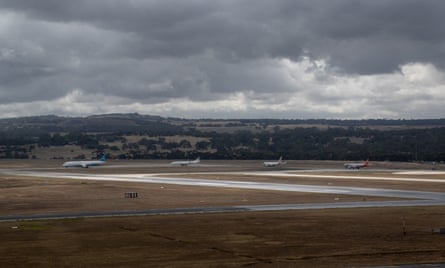 Critics claim the ground delay program (GDP) – which Airservices requests if they have to limit movements to avoid planes holding mid-air – has been put into place more frequently recently.
However, Airservices notes that even the slightest of inclement weather – which there has been no shortage of recently – at a destination airport can lead to a GDP in Sydney.
It insists weather, not staff shortages, are causing an increase in GDPs, but that these can't be the sole cause of a surge in airlines' delays and cancellations that have become more common of late.
Airservices aims to recruit up to 140 air-traffic controller trainees a year to its college in Melbourne, and an aviation background is no prerequisite, nor is an education in any specific field.
The organisation is keen for anyone to apply – but getting a foot in the door is difficult.
Just 2% of people pass the first hurdle – an online aptitude exam which not only quizzes applicants with mathematics, verbal reasoning and problem solving questions, but also peppers them with distractions.
"There'll be a test where you've got some simple maths equations maybe but they keep interrupting you, the screen will disappear and you'll be asked to do a different problem, and then something else as well, and then you have to go back to the first equation," explains Nicholle Wendt, a team leader in charge of training air-traffic controllers.
"You'll keep getting interrupted. It's about your ability to jump between tasks and not lose focus," Wendt explains.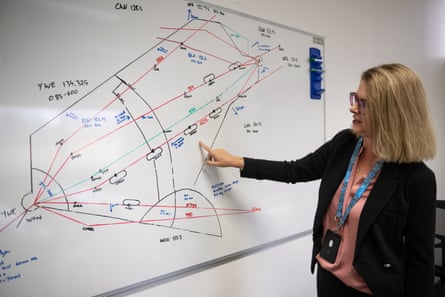 After passing the aptitude test, applicants must move to Melbourne for the training process, which takes up to 18 months including a placement before they become operational air-traffic controllers.
Part of the Melbourne training centre features a 360-degree simulator that can load and project the view from the air-traffic control tower of any airport in Australia – with detail down to McDonald's branches and petrol stations visible from the tower.
Students earn about $53,000 per year in early training when studying for the air-traffic control diploma, and $80,000 during final field training.
However, as students work through the different phases of training – three stages for those who want to work in towers at airports and four for those working in en route control – they must pass an exam before progressing to the next stage.
If they fail an exam twice, they don't get any more chances, and cannot become air-traffic controllers.
"Some people do get really nervous and that does make it hard," Wendt says. "But once you're operational, we have checks every six months anyway. So we try to get the students over that hurdle, and the exams do weed out a lot of the people who don't have the right skills for the job."
About 80% of applicants who begin training go on to graduate.
Salaries are attractive for those who do work in the field. The starting salary for operational air-traffic controllers is just under $110,000, while the median salary including penalties and overtime last financial year was $215,000. Top-tier senior managers earn much more. There is also unlimited sick leave.
As a result, a diverse field of people apply. "Sometimes they're from retail … In our course now we've got someone who used to work at K-Mart. But I think my favourite ones that come through are the tradies, the plumbers. They've dug enough trenches, and when they come in they're great."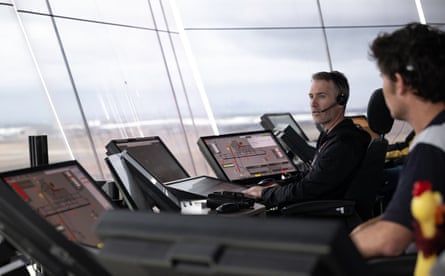 Wendt notes it's a male-dominated workforce, and encourages women to apply.
"We're still looking for as many people as we can find that are suitable," Wendt says. "You never want to be short-staffed. So, if we can get more people in, we'll be happy to take them. If you've got the right aptitude, it makes no difference whether you've got an aviation background or not."
Harry Lawler is one of Airservices' newest recruits. The 26-year-old Wellington native has relocated from his Brisbane home to Melbourne for the training course. Unlike many others in his course, Lawler previously worked as a pilot of small planes, and has long dreamed of becoming an air-traffic controller.
Lawler is training to work as a tower controller at an airport and, if he continues to pass his exams, will soon go to Brisbane for a placement. He likens the job to air-traffic controller simulator games on smartphones.
"It starts off really slow with just a few planes and you think this is easy, and then very quickly you're like 'Oh my God', you've got 20 or 30 aircraft all on the ground or in the air flying and you're responsible for each and every one."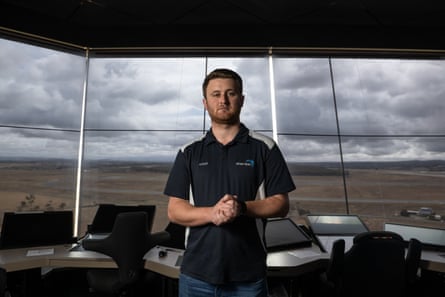 His partner says, as a result, he has appeared less stressed in everyday life. "I'm definitely less stressed driving in Melbourne," he jokes.
Lawler has so far only worked in simulators, but has observed colleagues work from the tower at Melbourne airport during his training.
'You're sweating a bit – but I love it'
There are four air-traffic controllers and one supervisor in the tower overlooking Tullamarine airport, as they guide movements in and out of an overcast Melbourne. Each desk has three large screens with schematics of the runways, with different locations blinking red.
The room is darkened from polarising sun shades that automatically deploy. The Melbourne central business district is visible in the distance as a Fiji Airways flight takes off.
The mood is relatively quiet, and Triple M plays at a hushed level in the background as controllers alternate between talking into their headsets and picking up binoculars, which they use to gaze out at the aircraft on the ground.
The centre of the tower feels like any other office. A kitchenette station with an opened packet of Arnott's assorted creams, cereals, packet ramen, as well as walkie-talkies and a bed downstairs for those working night shifts.
Taking it all in, Lawler is excited to begin, unfazed despite the prospect of further exams.
"It's tough, you are sweating a little bit … but I love it."