Durham County Council employees scooped prizes at both ends of the evening – and their respective career paths – at the 20th Anniversary Highways Awards.
Comedian Kerry Godliman hosted the gala evening, with contributions from Highways editor Dominic Browne and Institute of Highway Engineers (IHE) president Martin Polland.
At the start of proceedings, Katie Withers was named Apprentice of the Year, awarded to an individual working in the highways industry for the first time, who has made a considerable contribution in the workplace, while Robert Major was given the prestigious Lifetime Achievement Award after more than half a century in the sector.
With Mr Major unable to attend, Ms Withers, who had helped write his entry, gave his acceptance speech, while paying her own tribute to her mentor.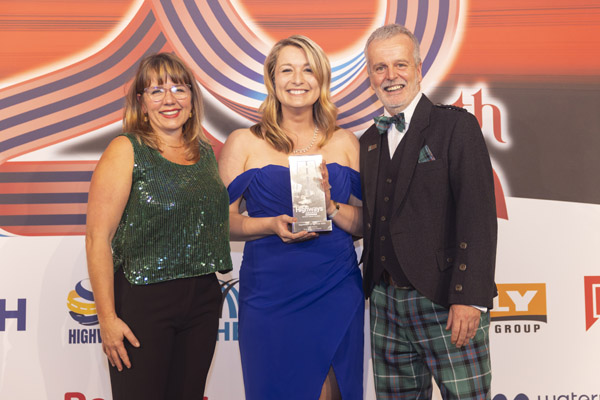 From left: Kerry Godliman, Katie Withers, Martin Polland
The other winners and highly commended finalists on the night were…
Apprentice of the Year, sponsored by the IHE
Highly Commended: Ellen Richardson – Aggregate Industries UK Limited
Highly Commended: Matthew Turner – WSP
Active Travel Scheme of the Year, sponsored by Waterman Aspen
Winner: Amey Consulting (working with Liverpool City Council, BCA Landscape HA Civils) for the Liverpool Lime Street Scheme
Highly Commended: Essex County Council (working with Tendring District Council, Active Essex, Essex Highways, Ringway Jacobs and partners, and The Active Wellbeing Society) for Essex Pedal Power
Best Use of New Technology, sponsored by Re-flow Field Management
Winner: WJ Group for ThermoPrint: Revolutionising the Road Marking Sector
Highly Commended: Highway Data System (working with WSP, Transport Scotland, BEAR Scotland, Amey, Breedon Contracting, Aggregate Industries, Tarmac Contracting) for Electronic Data Monitoring During Highway Construction: Automating On-Site Quality Assurance Through Sensors, GPS, Lasers, and Software
Environmental Sustainability Award, sponsored by Traffex
Winner: Milestone Infrastructure (working with Oxfordshire County Council) for North Oxford Corridor Decarbonisation
Highway Partnership Award, sponsored by WJ Group
Winner: Dorset Council and Heidelberg Materials for Dorset Highways Strategic Partnership
Highly Commended: Oxfordshire County Council (working with Milestone Infrastructure, Aggregate Industries, Colas, Drayton Construction, Hazel and Jeffries, and MJ Titchmarsh) for Oxfordshire Highway Alliance
Health and Wellbeing Award, sponsored by Maggies
Winner: FM Conway for The Big Ten in 10
Highly Commended: London Borough of Hammersmith and Fulham (working with Cadent Gas Ltd Morrison Energy Services Ltd) for LoWEG – London Women in Engineering Group
Maintenance Efficiency Award, sponsored by Highway Care
Winner: Connect Plus/Connect Plus Services (working with Optimatics and Alchera) for Programme Optimisation on the M25
Product of the Year, sponsored by GW Highways
Winner: SRL Traffic Systems for Haul Route PLUS (HR+)
Highly Commended: Chevron Traffic Management (working with HRS) for The Enhanced Mobile Carriageway Closure (EMCC) technique
Steve Berry Highway Authority Innovation Award sponsored by Mott MacDonald
Winner: Ringway Jacobs (working with Chesire East Highways, Amberon Traffic Management Ltd, GAP Plant Hire and Solutions Ltd, CDM Scaffolding and Enviroskip) for Marthall Lane Bridge – Reconstruction following a road traffic collision
Highly Commended: Dundee City Council (working with SWARCO, Bluewater, Urban Foresight and Connected Energy) for Dundee's Clepington Road EV Charging Oasis
Road Safety Scheme of the Year, sponsored by Blakedale
Winner: Transport Scotland (working with BEAR Scotland, Professor Alex Stedmon, The Road Safety Trust and WJ Group) for Motorcycle Collision Reduction Initiative at Bends – Perceptual Rider Information for Maximising Expertise and Enjoyment (PRIME)
Site Safety Initiative Award, sponsored by Shell Construction and Road
Winner: GeoPlace LLP (working with HAUC(UK)) for The HAUC App
Highly Commended: Balfour Beatty for Driving safety engagement through the use of Construction Ready Discussions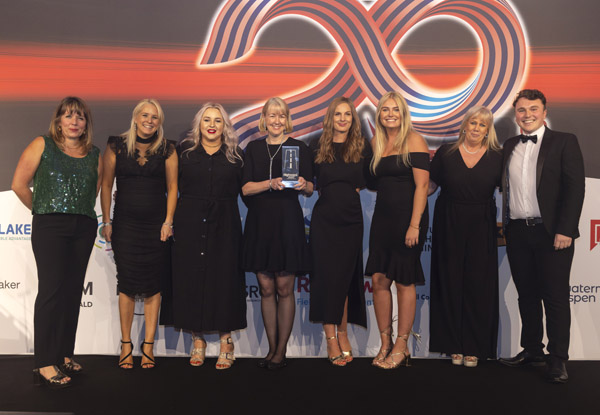 The all-female Team of the Year (with host and award sponsor)
Team of the Year, sponsored by Messagemaker
Winner: The Local Council Roads Innovation Group (LCRIG) for Team LCRIG
Highly Commended: AmeyArup, Pinsent Masons and National Highways for A66 Northern Trans-Pennine scheme
Highly Commended: Taylor Woodrow for IPort bus link
Winter Service and Climate Resilience Award, sponsored by the NWSRG
Winner: London Borough of Waltham Forest (working with Project Centre and Riney) for The Flood and Water Management Strategy
Highly Commended: Transport Scotland (working with Amey and BEAR and DBFO Contract Providers) for New Winter Service Contracts on Scottish Trunk Roads
Michael Conway MBE Community Leaders Award, sponsored by FM Conway
Winner: Neil Farley – Ringway Jacobs
Major Project Award, sponsored by Norse Highways
Winner: Connect Plus (working with Octavius Infrastructure) for Works to repair and strengthen the Gade Valley Viaduct
Highly Commended: Amey Consulting (working with FP McCann, the Department for Communities (DfC) and Department for Infrastructure (DfI)) for St. Patrick Regeneration Site – Link Road Project
Highly Commended: Milestone Infrastructure (working with Oxfordshire County Council for North Oxford Corridor – Major Project Collaboration
Judges' Special Merit Award, sponsored by Kiely Group
Winner: Transport Scotland for PRIME