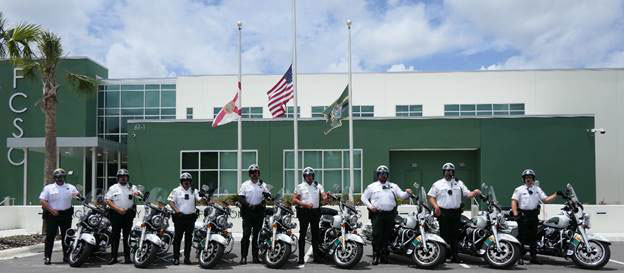 Sheriff Increases Motors Unit Staffing to Address Traffic Violations | FlaglerLive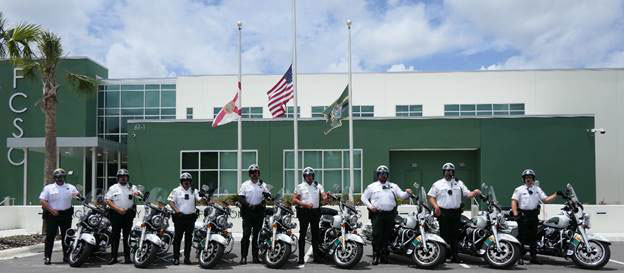 The Flagler County Sheriff's Office has increased its Motors Unit staffing from five to eight deputies in an effort to address the traffic quality of life in the community.
The Motors Unit, which patrols on Harley-Davidson motorcycles, is tasked with enforcing traffic laws and responding to traffic crashes and other emergencies on the roadways. They also focus on traffic violations including speeding, reckless and aggressive driving.
Sheriff Rick Staly stated, "The Motors Unit was started in the 1980s but was later dissolved in the 1990s. The Motors Unit was resurrected in the early 2000s and has had at least five motorcycles for over a decade. As the community grew and traffic increased, we added five additional traffic enforcement deputies, but they drove Ford Mustangs. This increase in the Motors Unit staffing will allow us to have a greater presence on our roads and handle the large number of traffic complaints we receive; and, hopefully, ensuring safer travel for our residents and visitors. You can avoid meeting the new motormen by following the traffic laws."
The three additional deputies: Deputy First Class Benjamin Stamps, Deputy Blake Colson, and Deputy Matthew Mortimer have completed specialized training to become Motors Unit certified. The multi-agency training course, taught by instructors from the Flagler County Sheriff's Office and Volusia Sheriff's Office, started with 22 students from surrounding agencies. In the end, only 9 students successfully completed the rigorous 80-hour course!
Between January 1, 2023, and May 15, 2023, FCSO has responded to 1,157 vehicle crashes compared to 1,206 during the same period of 2022.
This increase in staffing is part of the Sheriff's ongoing efforts to improve the quality of life in Flagler County by proactively addressing community safety concerns. Residents are encouraged to report any traffic-related concerns to the Sheriff's Office at 386-313-4911. By working together, we can create safer and more efficient streets for everyone.