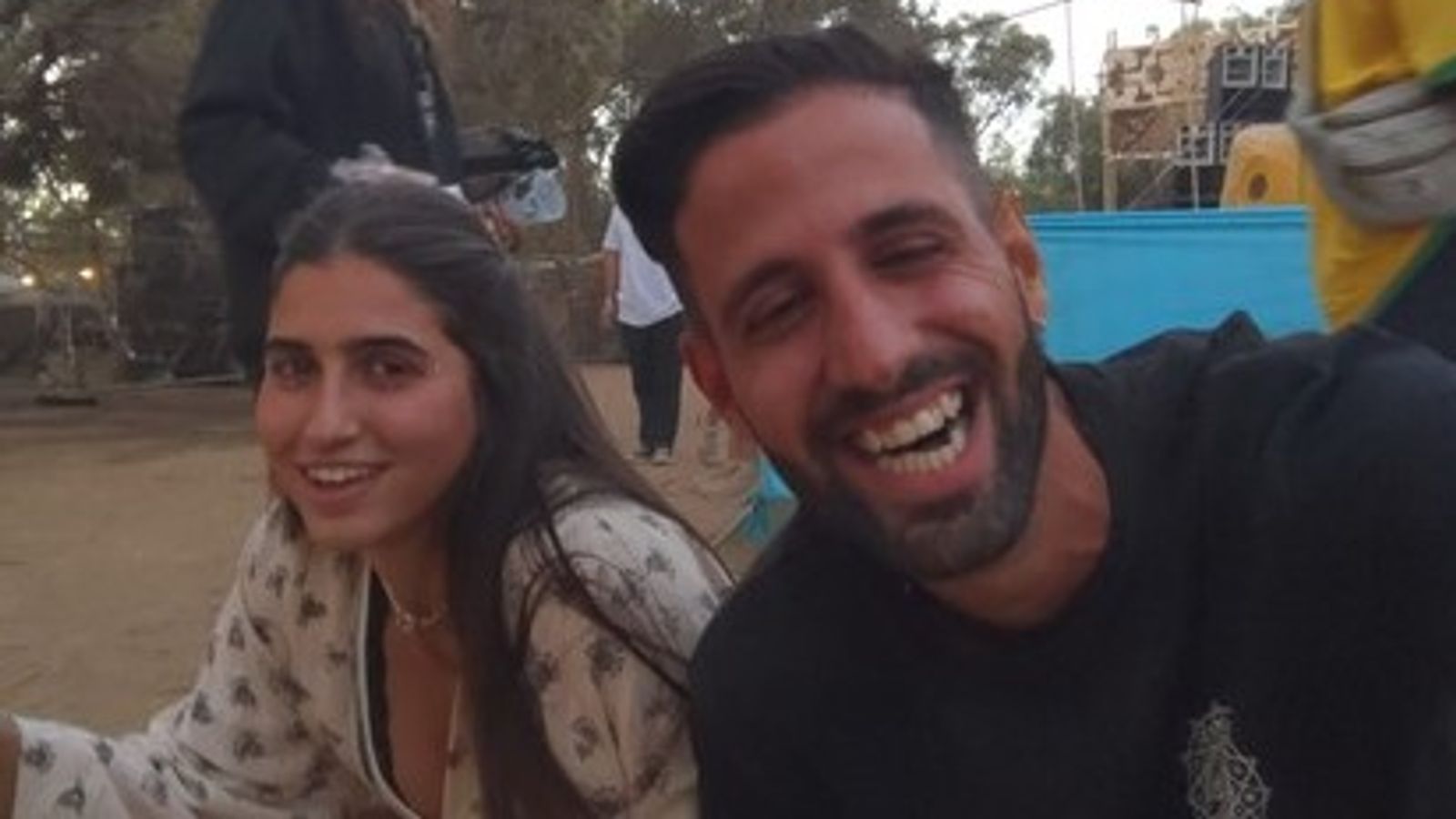 Survivors tell how Hamas targeted Supernova festival traffic jam in worst terror attack in Israeli history
[ad_1]

Two survivors described dodging bullets as they frantically drove off-road through a field to escape the violence. "I really heard the [bullets] whistle, I think it's the most terrifying thing I've been through because it's really next to you, you know you can feel it," one explained.
A helicopter gunship fired into the near distance in Gaza and a cloud of black smoke began to rise as I walked along the road that leads to the scene of the worst terror attack in Israeli history.
An outdoor party – a festival, a rave, call it what you like – but just a few hundred metres from where I was standing, the Israeli defence forces are still trying to identify and remove the bodies of over 250 young men and women killed in a bloodthirsty orgy of violence by Hamas killers.
On that feeder road, the bodies of the Hamas gunmen still lay where they were killed.
Some lay next to damaged vehicles slewed into ditches, or in fields where they were shot by Israeli soldiers.
The massacre at the Supernova dance music festival near Re'im will go down in Israeli history as the moment this country realised it was not invincible.
In a smart apartment in Tel Aviv, I met two survivors of the massacre, Hai Cohen and Noam Kenner.
They're clearly in shock, holding back tears as they tell me how the attack unfolded.
"Around 6.30 in the morning for the first time we started to see rockets over our heads, and then after a few seconds, or maybe minutes, the police stopped the music and alert us that there is a siren and it's a real thing," 31-year-old Hai explained.
At first, the friends thought the initial sirens and rockets were just part of the usual bombardments they've come to live with, and even took a few selfies to send to their friends and family while they hunkered down.
When they realised this attack was something far more serious, they ran for Hai's car and tried to leave.
He explained how they drove for their lives.
Hai said: "When the shooting starts, I directly push the gas and then go to the field that was on there on the right to me, I proceeded to push the 4×4 button and I started driving.
"I was hearing the shooting, they hit the car, and we saw their jeeps and their motorcycles of Hamas pushing young children under effect of drugs and alcohol… no heroic situation, they just butchered them."
Aftermath of Hamas attack at festival

Noam, 22, says the car park for the Supernova festival was full of cars, and that there was a huge traffic jam of people trying to get out.
"It's because a lot of people have been in the party and a lot of people come with cars, so yeah, you're stuck in there, you have a big road of cars that are waiting to go to the exit, but they stay in one place, they're not moving," she said.
Hai made a decision that likely saved their lives – instead of waiting in the traffic jam, they decided it was best to drive across the fields in the opposite direction to where they thought the shooting was coming from.
Dodging bullets and driving wildly off-road through a field, they managed to pick up three people who had escaped kibbutz Re'im.
"I really heard the [bullets] whistle, I think it's the most terrifying thing I've been through because it's really next to you, you know you can feel it," Noam explained.
Read more:
Israelis told to spend days in bomb shelters
Mother in Gaza fears for family as bombs crash nearby
Britons confirmed dead after Hamas attacks

This is a limited version of the story so unfortunately this content is not available.

Open the full version

"But you don't have time to think, you just react to it," Hai adds.
"After a few metres – something like 200, 300 metres – we succeeded in going to the main road, and at our right it's the Gaza Strip, and the military base they were attacking.
"We didn't know which way they were attacking, and to our left this was the butchering that you saw in videos."
After a frantic drive, a change of tyre, and a drive through a fruit field with Noam navigating on Google Maps to make sure they didn't drive into Gaza, Hai managed to drive himself, Noam and the others they rescued to safety.
How Hamas attack unfolded – and the response

Many of those who stayed in the traffic jam in the car park were killed or taken hostage.
And when Noam thinks about what happened, she realises how close she came to being one of them.
"When I remember, I realised that in the other road – the left road, that was traffic in trying to exit – the terrorists just come with the gun and shoot everybody in those cars.
"And I remember that I [wanted] to go in this road, because I thought it's the way out," she said, becoming emotional as she spoke.
Both Hai and Noam are still wearing their blue festival wristbands – Hai says it's because he wants to remember what happened.
Noam is still coming to terms with how a fun festival, attended by people from all over the world, turned into Israel's deadliest terror attack.
She said: "Nobody realised what was happening, nobody realised that it's going to be this huge situation.
"Nobody realised a terrorist was going to come and kill a lot of people – innocent people that just want to be with their friends, be happy and go to the party."


[ad_2]

Source link